ANNOUNCEMENTS:
EL PASO MOUNTAIN LIONS CLUB

Charter Night

German Community Center Fort Bliss

Dec, 16.2010 at 06:30 PM

Buffet # 2 ($20.00 ea)
SODA, COFFEE, BEER, & gratuity incl.

BAKED CHICKEN BREAST

WIENER SCHNITZEL

JÄGERSAUCE

CHEF SALAD

Au gratin potatoes/POTATO SALAD

BAGUETTE WITH BUTTER

Vanilla/chocolate pudding with cream

RSVP BY Dec, 06. 2010
TREASURER LION ALEX
PH: 915 355 – 9056 or Email: Xjr1300sp@sbcglobal.net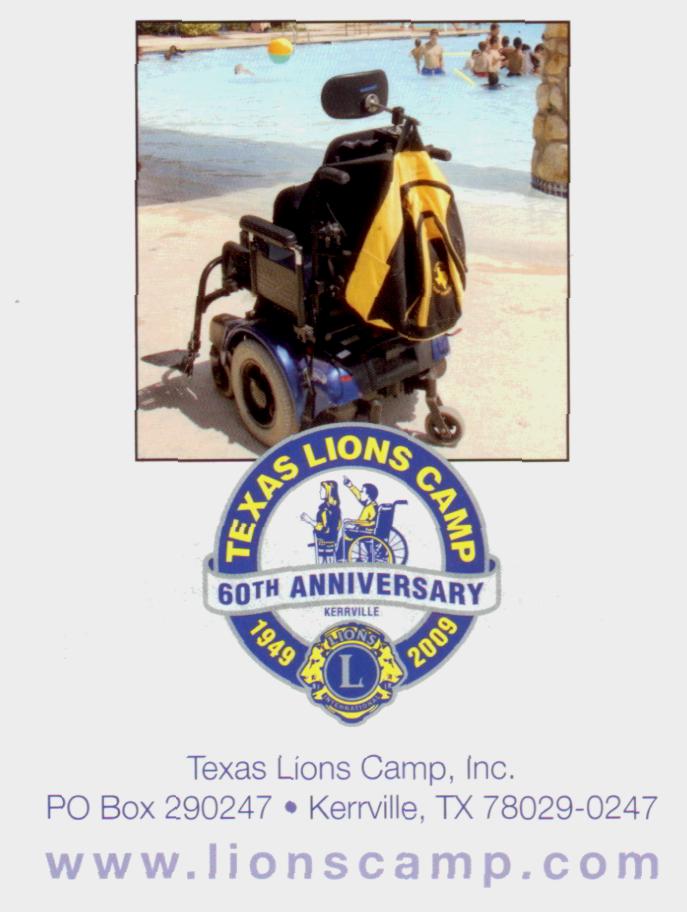 Providing camping experiences at no charge, to children with medical conditions since 1949. "Children Can...With TLC!"
NORTHEAST EL PASO MOUNTAIN LIONS CLUB



District 2-T3 Lions Clubs
Public Relations
NEWS RELEASE For more Information Contact:
Frank Ramirez
For Immediate Release (915) 857- 6343
&
Lynn Davis
(915) 366-5429
LIONISM IN EL PASO
There's fourteen Lions Clubs in the El Paso providing services and participating in local
projects selected by club members.
Included are:
Free eye glasses
Hearing and speech assistance
Diabetes screening and awareness
Texas Lions Camp for youth with disabilities and diabetes
Leos Club for school students

Environmental awareness

Sponsor Boy and Girl Scout Troops

Providing medical mobility equipment

Lions Eye Health Foundation (grants for eye health services)

Sponsor Mother's Day Breakfast

Thanksgiving Luncheon for the elderly

Painting houses for the elderly

School Patrol boy & girl sponsorship

Transportation for the ill

Christmas parade
Fourth of July parade
Distribution of food baskets
International relations with Mexico
Helping feed at homeless shelters
Working with OP-SANTA collecting and distributing toys to the needed
Volunteering and providing financial resource to many El Paso organizations, such as the Child Crisis Center, Rescue Mission, Salvation Army and Shelter for Battered Women and many others.
SERVICE AROUND THE WORLD
Clubs have the opportunity to help provide services to less fortunate in all parts of the world. It is important to note that clubs can provide these services to local needy, even if the club did not choose to participate with financial support. These wide ranging services include:
Leader dogs for the Blind
Youth Exchange with foreign clubs
Lions Eye Bank
Lions Eye Health Program
Lions World Services for the Blind

Texas Lions Leadership Forum - State leadership training

USA/Canada Lions Leadership Forum - three day leadership training for participant

from two countries

Youth Outreach — Lions Quest Program and youth recognition contests

Lions Clubs International Foundation — disaster relief & world health service
Texas Lions Foundation — disaster relief and diabetes services



OPERATION SANTA CLAUS
Needs our help!

As Governor of District 2-T3 and a Lion, we always enjoyed a smile, when some one receives help from a Lion and give a big thank you smile. This holiday season within our community, toy pick up and donations are going very slow. With our troops away, we are having problems receiving donations and picking up toys.
As Vice President of Op-Santa, I'm requesting assistance and help from all Lions and family members within our District 2-T3.

Operation Santa Need our help! ... Op-Santa collects new and used toys as well as new and used bicycles throughout the year. The toys are distributed to needy children in EL PASO and FORT BLISS. The soldiers that usually help collect toys are deployed in support of Operation Iraqi Freedom. This year has been the greatest challenge since Op-Santa began spreading holiday cheer many years ago. Operation Santa is having a slow start this year. But As Good LIONS Say "WE SERVE" and our Community need help now!
Here's how:
"Drop off used or new toys at your nearest El Paso Fire Department fire station.

Call: OP Santa at 568-1010, if you have a large or special pick up.

Send a donation to Operation Santa Claus or EL PASO MOUNTAIN LIONS CLUB

OPERATION SANTA CLAUS
ATTN: Vice President
Joseph "Joe" Toliver
P.O. Box 16270
Fort Bliss, TX 79916

EL PASO MOUNTAIN LIONS CLUB
ATTN: District 2-T3 Governor
Joseph "Joe" Toliver
P. O. BOX 6882
El Paso, TX 79906


The Youth Initiative Program will be assisting Operation Santa by collecting new or used toys during the October, November, and December months. All toys collected will be turned over to the El Paso Fire Department for delivery to Fort Bliss. Contact YIP at 298-9604.


"WE SERVE"
TODAY
FOR THE FUTURE IS
TOMORROW

Operation Santa Claus Page on This Site


Calendar of Events:
INFO COMMING SOON! I hope!